RETAINING WALLS
Retaining walls of gravity type
Retaining walls of cantilever type
Basement walls
Bearing walls
Walls with horizontal distributed load
Water basins, swimming pools
Retaining walls of gravity or cantilever type (reinforced).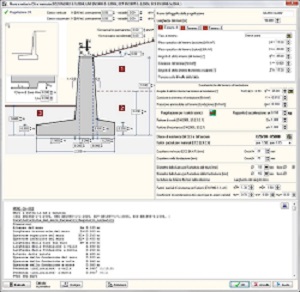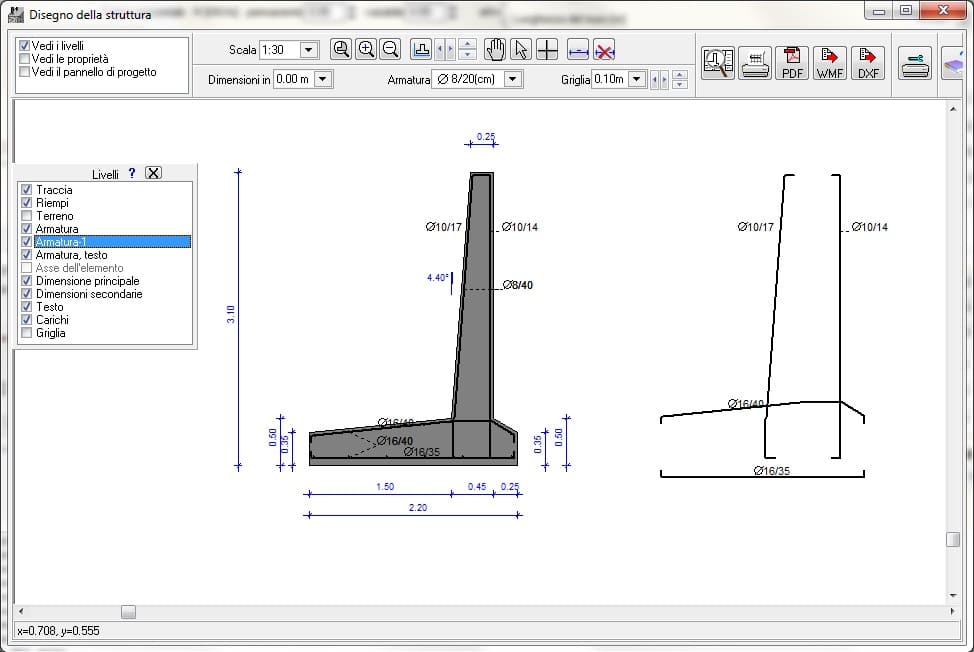 Geotechnical design using Eurocode 7, EN 1997-1:2004, Geotechnical design – General rules or allowable soil stress. Active and passive earth pressure using Coulomb's theory. Design of gravity walls using Eurocode 6 (EC6) or allowable stresses.
Earthquake analysis according to Eurocode 8 (EC8), Mononobe-Okabe.
Two different types of cantilever walls exist in the program:
Type-A. Walls with very small back heel. The active earth pressure is computed using Coulomb's theory at the back face of the wall.
Type B. Walls with back heel. The active earth pressure is computed using Rankine's theory at a vertical surface at the end of the heel.
The design of cantilever type walls is based on Ultimate Limit State Design of concrete according to Eurocode 2. The design checks are performed at each tenth of the stem height. The reinforcement of the stem is optimised, and depending on the stem height the reinforcement is reduced toward the top of the wall. The reinforcing bars are automatically placed in the reinforcing bar schedules. Optional Base key against sliding.
Load combinations according to Eurocode 2, Eurocode 7,(EQU, STR, GEO load cases) and Eurocode 0.
Full CAD drawing of retaining walls with reinforcement.
Basement walls




· Walls with only the bottom restrained for lateral movement.
· Walls with restrained the bottom and the top for lateral movement.
Bearing walls



Bearing walls in vertical or horizontal load on the top without any earth pressure.
Walls with horizontal distributed load
In case of wind loading the wind pressure is according to Eurocode 1-1-4:2005.

Water basins, swimming pools
Design of rectangular water basins. The solution is for a 2-dimensional cross section across the smallest dimension (width) of the basin.
The loading conditions include all the load cases according to Eurocode 0 (EQU, STR and GEO) for:
· Empty water basin (only earth pressure)
· Filled water basin without earth pressure
· Filled water basin with earth pressure
The reinforced concrete design includes also serviceability control with limit crack width specified by the user.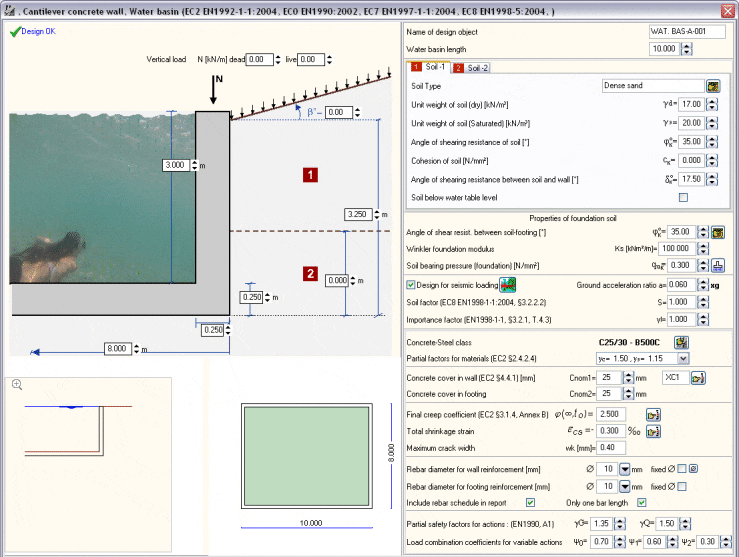 Esempi dei Calcoli dei muri - disegni -relazioni di calcolo