Foundaments of Steel columns

The concrete footing of steel structures has to be designed to resist soil pressure for maximum vertical load, and it must have enough weight to resist uplift (from wind or seismic forces).
You can design Pin and Fixed end Column foundations.
You can also specify if the foundation has an horizontal tie to take the horizontal outwards forces or not
Loading on the fundament: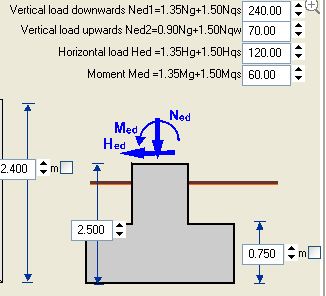 The final actions after multiplication with safety factors (γG and γQ). Eurocode-19990-1-1, Tabl.A1.2
For download loading usual γG =1.35(unfavourable), γQ=1.50.
For uplift loading usual γG =0.90(favourable), γQ=0.00.
The height over the foundation surface of the load application must be specified.
Steel Tie and Passive earth pressure.
The high horizontal forces acting at the base are acting outwards as a result of bending in the columns due to vertical loading on the roof.
This is resisted in two ways.
Steel tie at column base A tie cast into the floor slab connected to the base of the columns. This should be considered more safe method to resist the horizontal forces at the base of the columns.
Passive earth pressure on the side of the foundation. In this case the earth filling and compacting on the side of the foundation must be performed carefully, so that the passive earth pressure is not reduced. The fundament transverse width By and the height Bh are used to compute the active area for passive earth pressure.

If you pressed the predimensioning

, the foundation dimensions (if not checked) are adjusted by the program so the fundament weight is enough to resist uplift forces. The width By and the height are also for adequate passive earth force to resist the horizontal base force outwards.
BETONexpress™ © è un marchio registrato RUNET Norway as. Tutti i diritti riservati.
Vuoi tenerti aggiornato sulle novità? Iscriviti alla nostra newsletter!