IDEA StatiCa has effective BIM links to other FEA programs. Diagram below shows the architecture of IDEA MIDAS Solution:

Midas CIVIL – software for the bridge design. General FEM system dedicated to concrete, prestressed, steel and composite bridges of all types. Construction stages, time dependent analysis, form-finding method, seismicity are supported.
Midas FEA – general FEM program with 1/2/3D elements comparable with the top American applications. It is focused to structural applications. Geometrical and material nonlinearity like plastic behaviour of steel, cracks in concrete, contacts elements in connections, heat transfer is implemented.
Midas GTS – well equipped 3D application for geotechnical analysis. Settlements of the structure and soil interaction with the structure. Design of foundations (piles) and tunnels.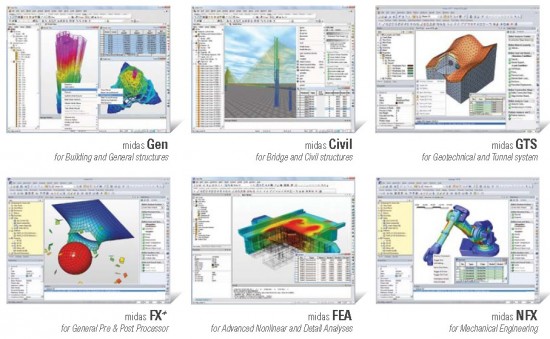 Midas Civil: Worldwide no.1 in bridge design