Import Excel® to Revit® tool that keeps project data synced
Excel2R imports Microsoft® Excel® spreadsheets, including style settings, into Autodesk® Revit® projects. Tables are easy to create and are synced with the Excel spreadsheet, significantly speeding up project documentation.
Excel2R quickly imports MS Excel spreadsheets into Revit with all formatting intact. You can sync your Revit data tables with the original spreadsheet at any time, as the Excel2R plug-in maintains the link between MS Excel and your Revit project.
CARATTERISTICHE DEL MODULO
Time-saving productivity when you link MS Excel information to Revit project.
Easy to Use trouble-free creation of tables
Always Up-to-Date the latest data in Revit project.
Update the schedules with the push of a button
See which schedules are out of date at a glance
Excel2R Excel® to Revit® significantly speeds up the project documentation process in Revit.
Creates and updates tables in Revit according to the selected table settings

Preserves the following MS Excel formatting styles:

Cell width, height
Text size per cell
Text font per cell
Text style per cell (bold, italic, underline)
Text alignment within cell (left, center, right, top, middle, bottom)
Merged cells
Three cell border line thicknesses: thin, medium, wide

Opt to use Revit text fonts or those chosen in Excel
Maintains link between the Excel spreadsheet and Revit table for syncing
Imported Excel file is stored in your Revit project
Option to map text and line styles between Excel and Revit
Possible to update Excel data.
Notifies you if the Excel file is modified and will be updated in Revit project
Notifies you if the original Excel file was deleted or moved to other place
Preserves MS Excel formatting: cell width/height, font size/style per cell, cell alignment, merged cells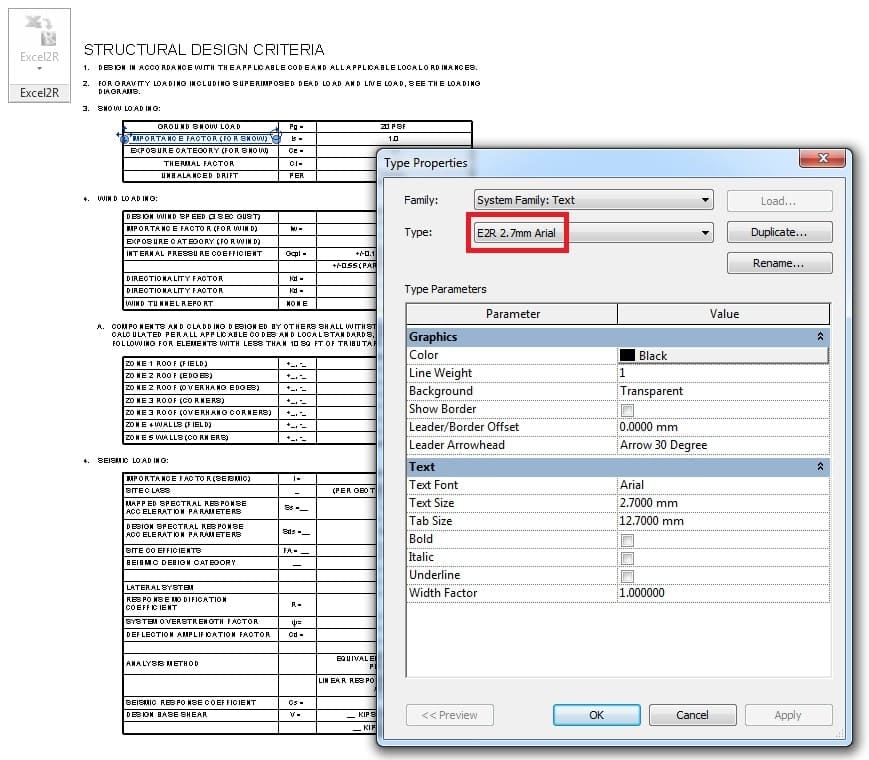 Gives you the option of mapping Text and Line Styles between MS Excel and your Revit project.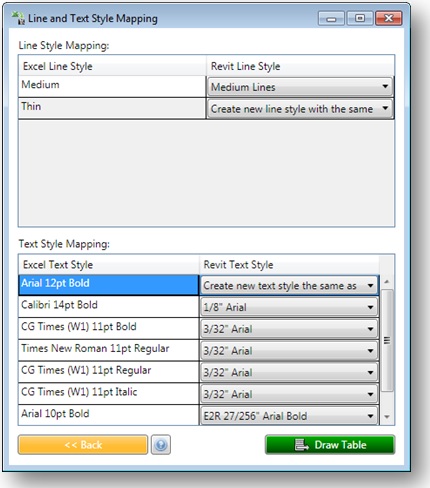 Informs you when the MS Excel file was modified and will be updated in Revit project.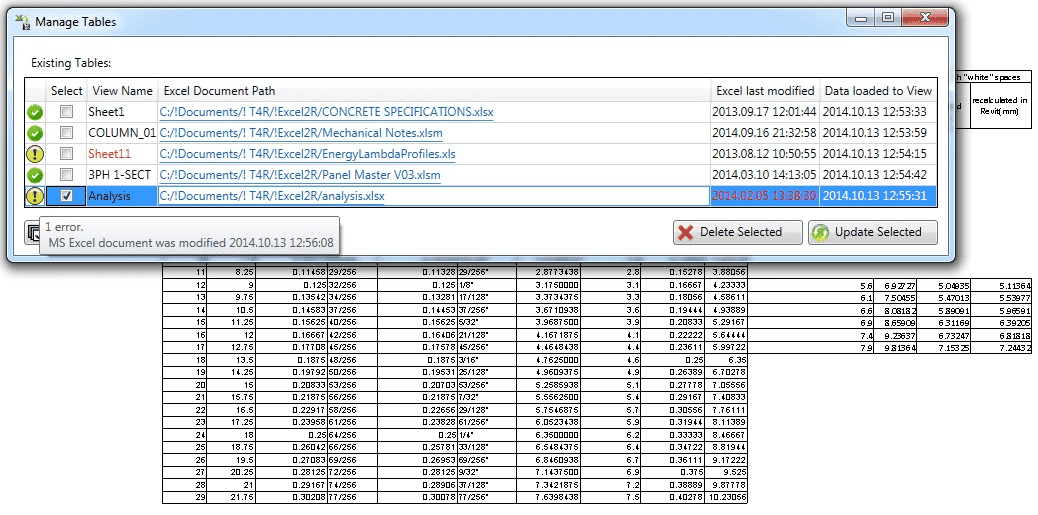 Majority of Autodesk® Revit® users are experiencing a headache that is caused by the time consuming process of project documentation. Even though Revit has legend views, schedules, drafting views, etc., where you can create tables or plain texts with various information that reflect the project, it has some missing functionality as well.

We often get details about certain project parts from other specialists who are working with MS Excel. Of course, it is better and sometimes a must to have everything organized in one place. With that in mind, linking the spreadsheets in MS Excel to our Revit file and then, for example, having an ability to place them in sheets near Revit drawings sound like a great plan. Unfortunately, as you may already know, there is no rational way to do that with plain Revit. Luckily, there is a tool that can help. Excel2R is an excellent AGACAD tool that significantly speeds up project documentation process. This tool quickly imports MS Excel spreadsheets into Revit projects.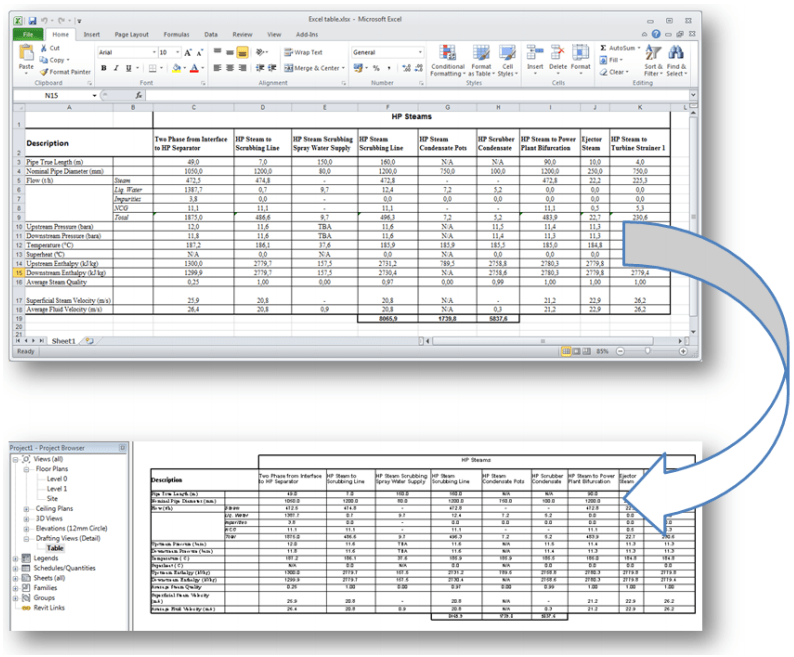 Almost anything you can create in Excel can be imported into Revit with Excel2R add-in. Please note, that there are similar tools in the market that are a couple of times more expensive. With that in mind, consider it as a smart investment which will save you a lot of time and make your workflow smoother and project documentation well organized.
One of the best things about Excel2R is that data between MS Excel and Revit documents is linked; therefore tables constantly keep current information. Such data can be synchronized with the original MS Excel spreadsheet at any time. The Excel2R add-on keeps a strong link between MS Excel and Revit project, and location of the imported MS Excel file is stored in Revit project.
Another great thing is that this add-on has a possibility to control design settings, so you can keep the style of Cell width/height, Text size/font/style per cell, Alignment within the cell, Merged cells, etc., that were used in MS Excel. You can also use Revit Text fonts and Line Styles instead of those created in MS Excel by mapping them, in order to make the styles match. Furthermore, created data (lines and text notes) are grouped with Revit Group function, so you can modify it directly in Revit.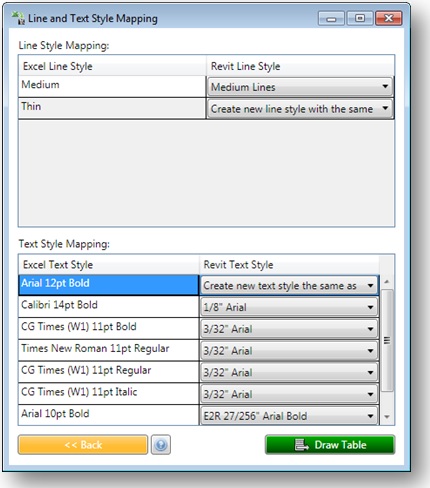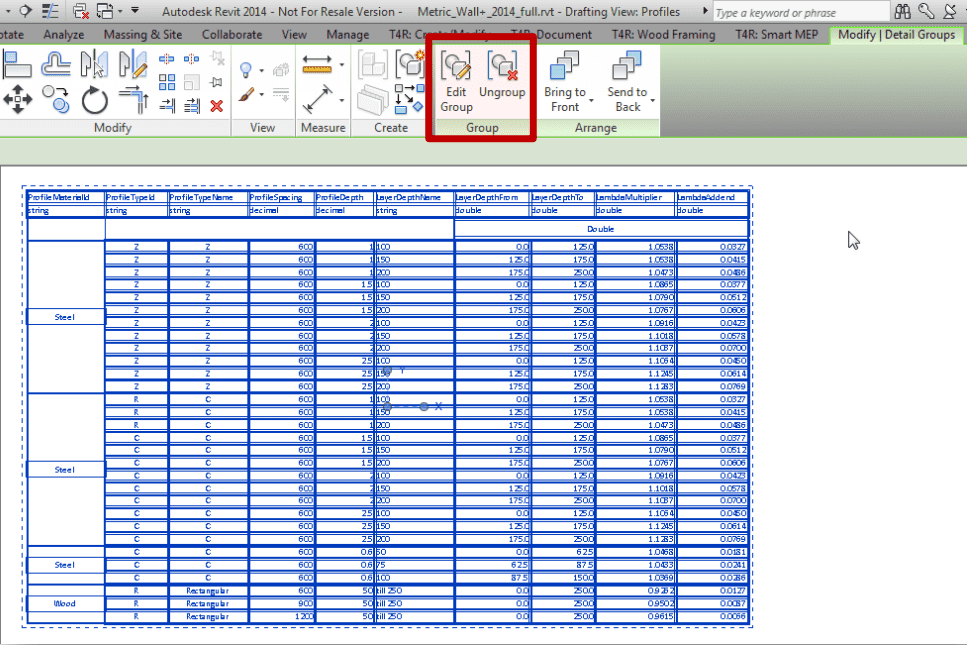 Also, you have an ability to change mapping settings for an existing table and recreate it, so you won't have to waste your time by importing and going through the same process all over again.
Moreover, Excel2R prevents errors by informing the user when the MS Excel file was modified and will be updated in Revit project, or if the original MS Excel file was deleted or moved to other place.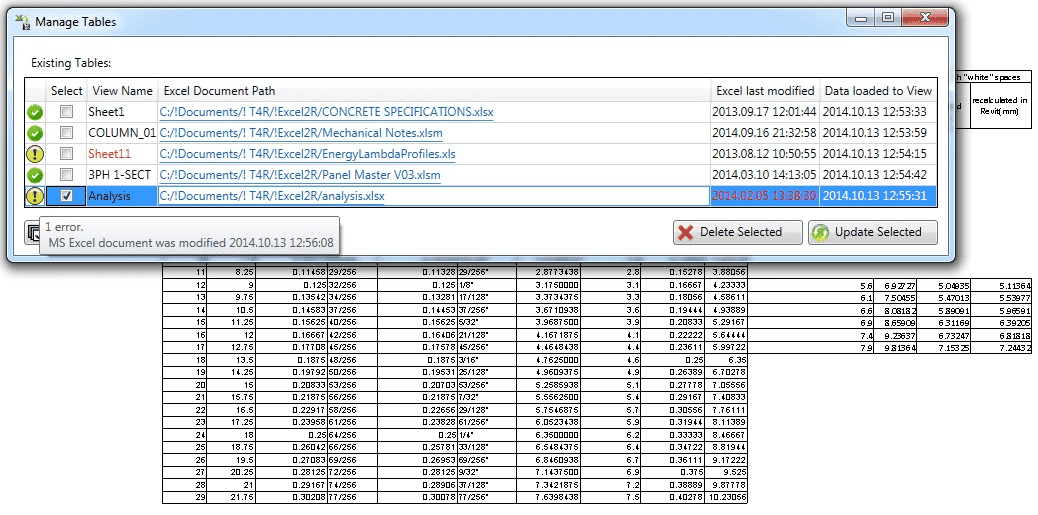 Of course, tables can be created not only in MS Excel, but other commonly used software, like MS Word® or AutoCAD®. In this case, note that if you have an existing table in MS Word, you can copy and paste it into MS Excel, and if you have an existing table in AutoCAD, you can export it to MS Excel.
E-Help page
Every T4R add-on has an E-Help page that provides you with step-by-step instructions on how to properly start using the software.
There are two ways you can access the E-Help page:
1st way
Click the E-Help button next to the product in the TOOLS 4 BIM Dock menu.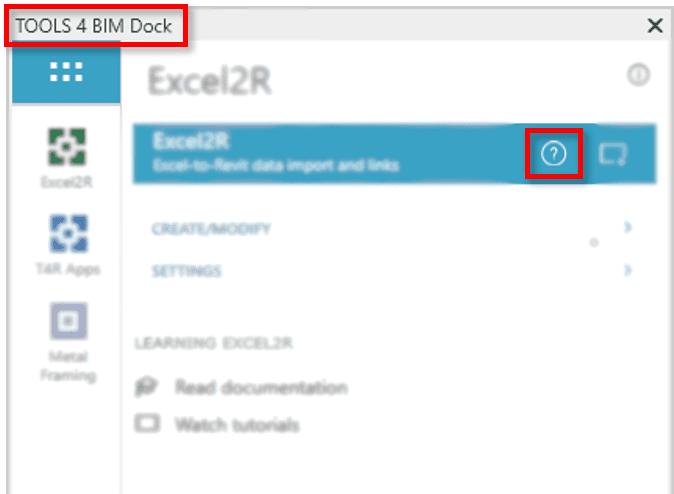 2nd way
Find the product in the Revit ribbon menu.
Select the arrow icon to show the product function drop-down menu, and you will see the Getting Started option, which will lead you to the E-help page.


Make sure that the product is visible in the Revit ribbon menu by selecting the icon next to the E-help as shown.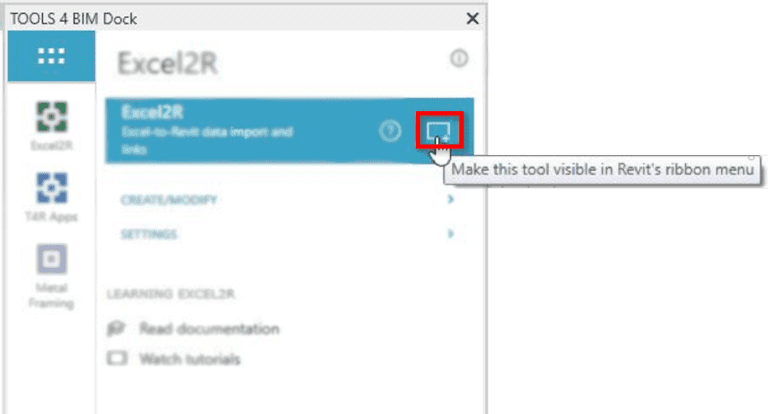 AGACAD Free Download
Per favore compila il modulo sottostante e ti invieremo una mail con il link per scaricare la VERSIONE DEMO del software e tutte le istruzioni all'indirizzo email inserito.
Richiesta informazioni
Compila il modulo sottostante ed inviaci la tua richiesta, il nostro staff risponderà nel minor tempo possibile. Per favore specifica a quale software ti riferisci